Photos can be enlarged by clicking on them
Alethia DOH Cosmic Wonder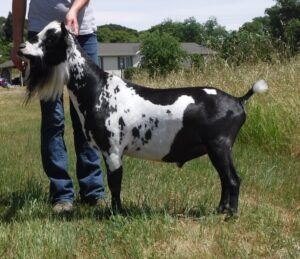 photo taken when he was 2 years old – May 2019 (OH)
Date of birth: 5/21/17
Sire: GCH Algedi Farm DJ Drops of Honey +*B
(GCH Algedi Farm Drops of Jupiter ++*B x SGCH Rosasharn's UMT Tupelo Honey 4*M EEEE 91)
Dam: Alethia HB Interstellar
(Algedi Farm MB Honeymoon Bay ++*B x CH Algedi Farm D Capella 4*M VEEE 91)
---
Sonview Ranch Lando V+E 87 (02-02)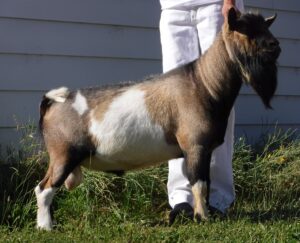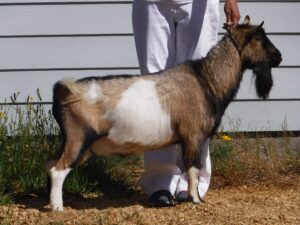 Yearling photo – August 2020
Date of birth: 3/31/19
Linear Appraisal History:
2021 V+E 87 (02-02)
Sire: Twincreeks RM Watermark +*B VVV 86 (1-09)
(Castle Rock Rainmaker ++*B x CH Twincreeks PKM Brownbetty +VVV 86 (4-06))
Dam: GCH Sonview Ranch Fancy C.C. 1*M EEEE 91 (7-00)
(Lost Valley KRE Laredo x Oops Ranch B.B.)
---
Sonview Ranch Michelangelo For Sale – $650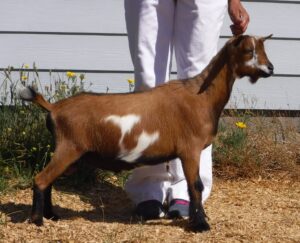 5 months old – August 2020 photo
Date of birth: 3/2/2020
polled
Sire: The Sonview Ranch Corey
(AGS Lost Valley KRE Laredo x AGS Castle Rock IM Skype)
For your information: Sonview Ranch Corey is a paternal brother to GCH Sonview Ranch Fancy C.C. 1*M EEEE 91 (7-00) who won the aged doe class at the 2019 ADGA National Show and was also awarded best udder in class there. She was also a very good milker, producing 919 lb with 59 lb fat and 44 lb protein in 270 days at 7 years of age.
Corey's dam, Castle Rock IM Skype is a littermate sister to ARMCH-GCH CRF Castle Rock Tuscan Sun 1*M *D VEEE 90, the dam of the 2019 ADGA National Champion with National Best Udder of Breed.
Many thanks to Suzanne Harmon at Moon Hollow Ranch, Sonoma, CA, for allowing me to lease Corey back to breed some of my does in 2019! He produced some really nice kids for me!
Dam: Sonview Ranch Delightful Dale
(Alethia DOH Cosmic Wonder x Twin Pears Jalena 1*M VEVV 88 (2-01)
Delightful Dale was just appraised on 5/31/21, scoring VEVE 89 as a 2nd freshening 3 year old, with a 33 in dairyness, 33 in rump angle, 34 in fore udder attachment and 36 in rear udder height! She is also turning out to be a good little milker, producing 938 lb with 62 lb fat and 41 lb protein as a first freshener last year in 308 days!
I have decided to make Michelangelo available to a new herd. I used him on several nice does last year and am keeping doe kids by him in my herd.
---
Happily introducing: Walsh Kids P Supernova
Date of birth: 7/1/2020
Sire: Curbstone Valley AD Prophecy *B
(GCH Castle Rock Abraham Darby +*B x GCH Alethia DJ Written N The Stars 5*M)
Dam: CH Alethia DJ Starry Night
(GCH Algedi Farm Drops Of Jupiter ++*B x Alethia RR Stardust)
My thanks to Walsh Kids for allowing me to add this special buck kid to my herd. He has so much potential. His pedigree is packed with proven, powerful genetics, top and bottom. Besides being cute as can be, he is a quiet gentleman. He might be young but he is already seriously wooing the ladies and can hardly wait to do his job.
---
---