Photos can be enlarged by clicking on them
Thrilled to introduce our new herd sire!!!
Rosasharn CB Katmandoo *B VGE 88 (07-11)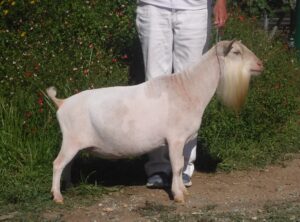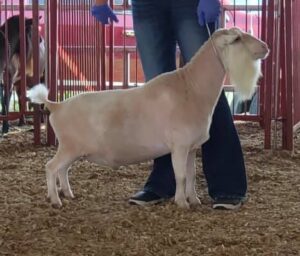 Date of birth: Sept 2015 – joined our herd Jan 2022
Sire: Rosasharn SH Celtic Ballad ++*B VEE 90 (05-02)
(Rosasharn BB Son of Honey ++*B VEV 87 (02-05) x ARMCH SG Rosasharn P Haiku 4*M VEEE 91 (06-05) ADGA National Champion 2010)
Dam: Rosasharn TL Kit-Kat 5*EEEE 91 (07-04)
(AGS Rosasharn's Tiger L ++B +AE 82 (08-02) x AGS Rosasharn Tom's Bit-O-Honey 4*M VEV+ 86 (09-01)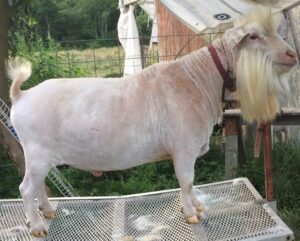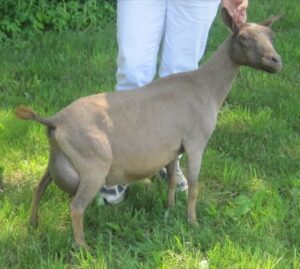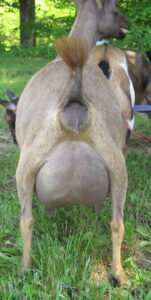 For years, I have been a huge fan of Rosasharn Farm's Nigerian Dwarf goats. Started in 1986, Rosasharn Farm has been one of the most influential breeders in advancing the development and improvement of Nigerian Dwarf dairy goats. They have produced multiple National Champion does and multiple Top Ten does in their long history of milk testing in both AGS and ADGA, and also achieve high scores in ADGA's Linear Appraisal.
ARMCH SG Rosasharn's Eclipse 2*M EEEV 91 (12-04) was AGS National Champion in 2005, with ARMCH Rosasharn Tom's Bit-A-Lilly 2*M winning Reserve Champion AND AGS Rosasharn's UK Witch-Hazel being awarded National Best Udder! In 2007, ARMCH SG Rosasharn's Buckwheat Honey 3*M EEEE 91 (07-04) won the AGS National Champion title, making her a 3rd generation National Champion doe!
In 2010, they had the very first ADGA National Champion Nigerian Dwarf doe, winning with ARMCH SG Rosasharn P Haiku4*M VEEE 91, plus ARMCH SG Rosasharn's Buckwheat Honey 3*M EEEE 91, was named ADGA Reserve National Champion! Both of these does were outstanding and I believe they would still be competitive in today's show rings. Many of the animals excelling today have Rosasharn in their pedigrees.
Cade's Lil Farm has some outstanding daughters sired by Rosasharn CB Katmandoo. Below is what Cade wrote about some of these in Jan 2023. Photo credit to Cade's Lil Farm and used with the permission of Cade Cockburn.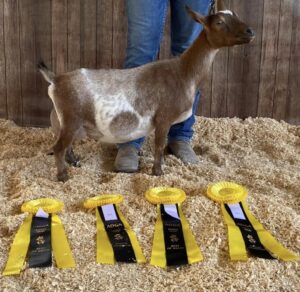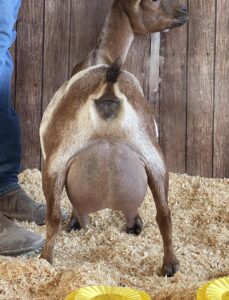 Starting off our line up with one of my favorite does in the herd, GCH Cade's Lil Farm KMD Cookie-Doe 4*M!
Cookie-Doe is a small, but that doesn't mean she isn't mighty!
Sired by Rosasharn CB Katmandoo *B, her dam is GCH Cade's Lil Farm BD Do-Si-Do 3*M VVEE 90. If you know what Do-Si-Do looks like, you might have to do a double take to realize that you're looking at her daughter when you see Cookie-Doe instead of her! They look very similar.
Just like her dam and the other daughters produced by her sire, Cookie-Doe is sharp, dairy, and angular. She is smoothly blended from neck into withers and boasts an incredible front end assembly.
However, I believe that her most notable attribute is the INCREDIBLE mammary system that she possesses. If it were able, I'd have an entire barn full of Cookie-Doe udders! She is productive with a very capacious udder that is so well attached that it doesn't budge while she's on the move. You also can't help but notice her incredibly wide escutcheon, smoothly blended fore udder, and PERFECT teat placement.
Cookie-Doe easily finished her championship this year, by winning Senior Champion and Best of Breed three times in incredibly large Nigerian shows. When she earned her first leg in May in Sedalia, MO, she beat 67 other Nigerian milkers! She also had a respectable placing at the ADGA National Show in Harrisburg, PA, placing 6th in an extremely competitive three year old milker class.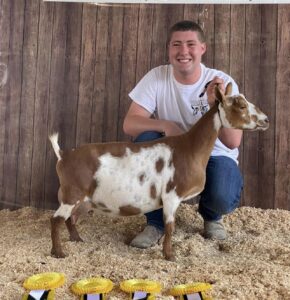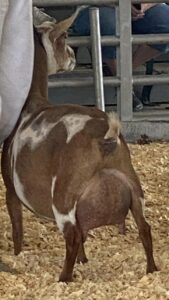 GCH Cade's Lil Farm KMD Saffron 2*M
Saffron is a doe in our herd that some may overlook. Though she's always been incredibly correct, she's been a rather unassuming doe up until this year.
As a 4 year old, she has blossomed into a powerhouse in our barn and is a doe we plan to continue using a foundation doe in our breeding program moving forward.
She had an extremely impressive show season in 2022, handily finishing her championship at large, competitive Nigerian shows all over the midwest. Additionally, she placed 11th in a large class at the ADGA National Show in Harrisburg, PA.
The phenomenal general appearance on this doe is impossible to miss. She is incredibly uphill with a very level topline and rump. As you see this doe walk towards you, you will likely be very impressed with her outstanding front end assembly! Her front end is wide and smoothly blended, made complete with a brisket extension that many Nigerians could benefit from.
Not only does she boast excellent general appearance, but she is DAIRY! She's sharp at those withers, incurving about that thigh, and very open about the ribbing. As with other Rosasharn CB Katmandoo *B daughters, her mammary system is well attached, balanced, and smoothly blended in the fore udder.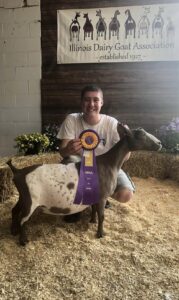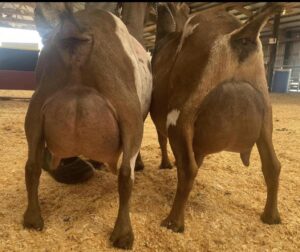 GCH Cade's Lil Farm KMD Vanish 3*M EEEE 90
In my opinion, this doe is one of the best Nigerians in the nation, if not the best, in the category of general appearance. When I think of this doe's general appearance, I have trouble finding a fault. Her feet and legs are incredible, with a rear leg set that is almost ideal. She has a wide front end and an exceptional rump that is wide and level. You can see by the pictures below how uphill she is and how strong she is in the chine.
Past ADGA National Show judges agree with my assessment of this doe's general appearance. In 2017, Vanish was 1ST PLACE SENIOR KID at the ADGA National Show in Madison, WI. One year later, at the 2018 ADGA National Show in Columbus, OH, she was 1ST PLACE YEARLING MILKER! She was BEST DOE IN SHOW at the 2021 Illini Interstate Showdown, beating almost 180 other milking does from well known and competitive standard breed herds.
Not only is she strong in general appearance, she's DAIRY! This doe is the epitome of dairy STRENGTH. She has remarkable substance of bone and is open about the ribbing, and she's particularly incurving about the thigh.
---
A Dream Come True – straight from the outstanding, time tested and proven Rosasharn herd in Massachusetts as a baby kid in 2021!

I am thrilled to introduce:

Rosasharn HRS Clasic Caballero VVV 86 (02-02)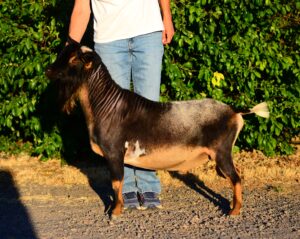 Date of birth: 5/23/2021 – joined our herd as a bottle baby
Sire: Rosasharn Hurricane Rain Storm *B
(Short On Heaven Rain Boots *B x Rosasharn BCL Dark and Stormy 7*M)
Dam: Rosasharn CB Pegasus 7*M EEVV 89 (2-03)
(Rosasharn SH Celtic Ballad ++*B VEE 90 (5-02) x Rosasharn WLK'S QueenCassiopeia 6*M VVVV 89 (5-02))
---
Alethia DOH Cosmic Wonder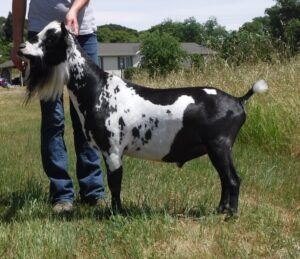 photo taken when he was 2 years old – May 2019 (OH)
Date of birth: 5/21/17 – joined our herd as a bottle baby
Sire: GCH Algedi Farm DJ Drops of Honey +*B
(GCH Algedi Farm Drops of Jupiter ++*B *S EEE 91 x SGCH Rosasharn's UMT Tupelo Honey 4*M EEEE 91)
Dam: Alethia HB Interstellar
(Algedi Farm MB Honeymoon Bay ++*B x CH Algedi Farm D Capella 4*M VEEE 91)
---
Sonview Ranch Lando V+E 87 (02-02)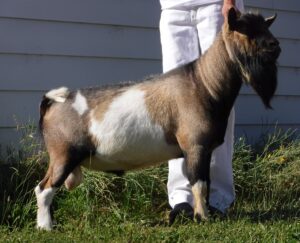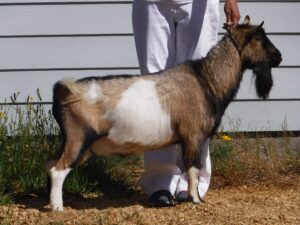 Yearling photo – August 2020
Date of birth: 3/31/19 – born here from my all time favorite doe
Linear Appraisal History:
2021 V+E 87 (02-02)
Sire: Twincreeks RM Watermark +*B VVV 86 (1-09)
(Castle Rock Rainmaker ++*B x CH Twincreeks PKM Brownbetty +VVV 86 (4-06))
Dam: GCH Sonview Ranch Fancy C.C. 1*M EEEE 91 (7-00)
(Lost Valley KRE Laredo x Oops Ranch B.B.)
---
Walsh Kids P Supernova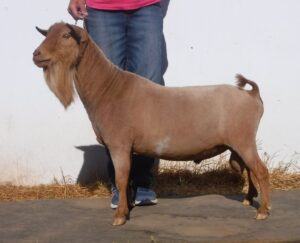 Date of birth: 7/1/2020 – joined our herd as a bottle baby
Sire: Curbstone Valley AD Prophecy *B
(GCH Castle Rock Abraham Darby +*B x GCH Alethia DJ Written N The Stars 5*M)
Dam: CH Alethia DJ Starry Night
(GCH Algedi Farm Drops Of Jupiter ++*B *S EEE 91 x Alethia RR Stardust)
My thanks to Walsh Kids for allowing me to add this special buck kid to my herd in 2020. He has so much potential. His pedigree is packed with proven, powerful genetics, top and bottom. Besides being cute as can be, he is a quiet gentleman.
---
---