Photos can be enlarged by clicking on them
Sonview Ranch Regal
1st place junior kid at the 2023 ADGA National Show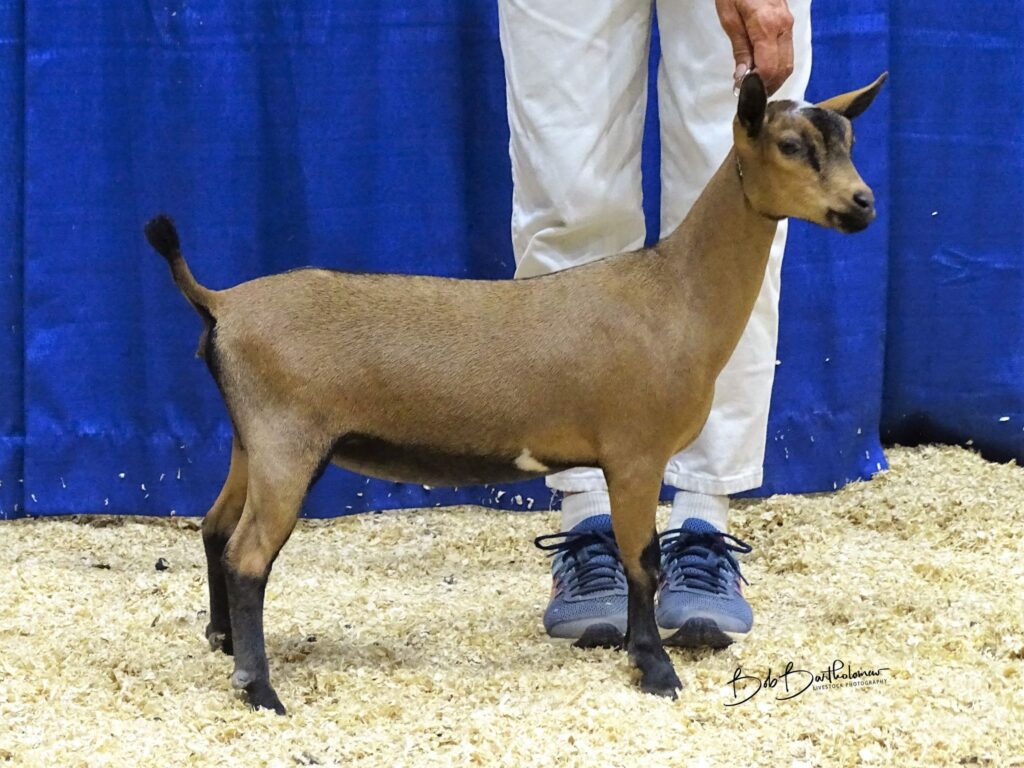 Date of birth: 4/20/23
Sire: Sonview Ranch Lando *B
(TX Twincreeks RM Watermark *B+ x GCH AGS Sonview Ranch Fancy C.C. 1*M EEEE 91 (7-00))
Dam: GCH Sonview Ranch Delightful Dale 2*M VEEE 91 (05-02) (pending ADGA)
(Alethia DOH Cosmic Wonder x Twin Pears Jalena 1*M VVEV 87 (04-01))
---
Sonview Ranch Ritzy
2nd place junior kid at the 2023 ADGA National Show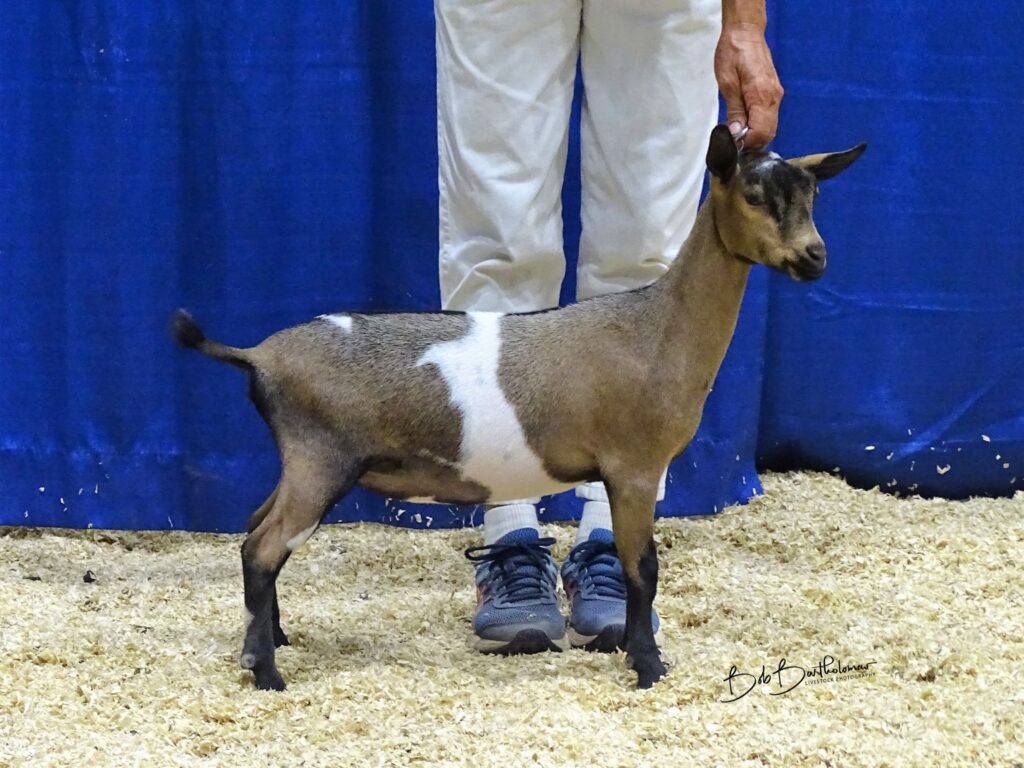 Date of birth: 4/20/23
Sire: Sonview Ranch Lando *B
(TX Twincreeks RM Watermark *B+ x GCH AGS Sonview Ranch Fancy C.C. 1*M EEEE 91 (7-00))
Dam: GCH Sonview Ranch Delightful Dale 2*M VEEE 91 (05-02) (pending ADGA)
(Alethia DOH Cosmic Wonder x Twin Pears Jalena 1*M VVEV 87 (04-01))
---
Sonview Ranch KMD Rainey
11th place junior kid at the 2023 ADGA National Show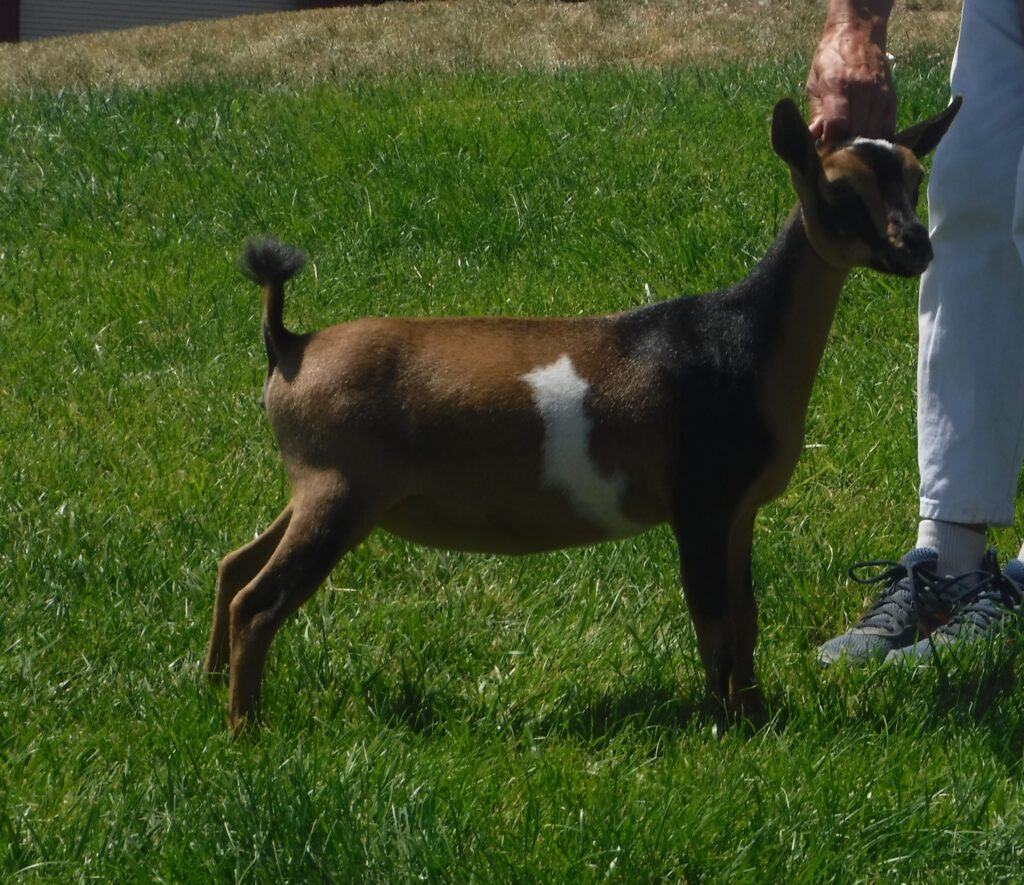 Date of birth: 4/7/23
Sire: Rosasharn CB Katmandoo +*B VGE 88 (07-11)
(Rosasharn SH Celtic Ballad ++*B VEE 90 (05-02) x Rosasharn TL Kit-Kat 5*EEEE 91 (07-04))
Dam: Sonview Ranch Lainey 2*M VEEE 91 (04-04)
(Twincreeks RM Watermark +*B VVV 86 (1-09) x GCH Sonview Ranch Fancy C.C. 1*M EEEE 91 (07-00))
---
Sonview Ranch Rejoice
12th place intermediate kid at the 2023 ADGA National Show
Date of birth: 3/6/23
Sire: Rosasharn CB Katmandoo +*B VGE 88 (07-11)
(Rosasharn SH Celtic Ballad ++*B VEE 90 (05-02) x Rosasharn TL Kit-Kat 5*EEEE 91 (07-04))
Dam: SGCH Sonview Ranch Emmy 2*M VEEE 90 (7-01))
( SG Castle Rock Bentley +*B x The Sonview Ranch Carmen 1*M)
---
Sonview Ranch KMD Resolute
14th place intermediate kid at the 2023 ADGA National Show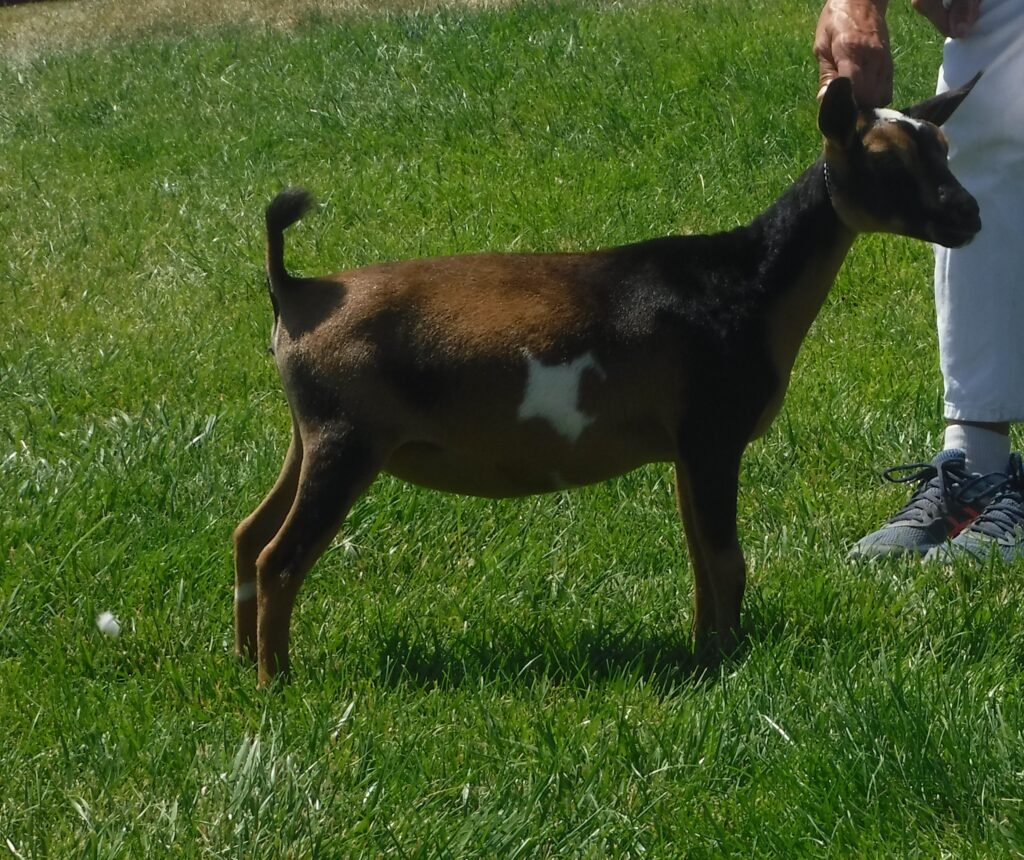 Date of birth: 3/17/23
Sire: Rosasharn CB Katmandoo +*B VGE 88 (07-11)
(Rosasharn SH Celtic Ballad ++*B VEE 90 (05-02) x Rosasharn TL Kit-Kat 5*EEEE 91 (07-04))
Dam: Sonview Ranch Tribute 2*M VVEV 88 (2-02)
(Alethia SHH Gunsmoke N Lace x The Sonview Ranch Carmen)
---
Sonview Ranch Promising Pelia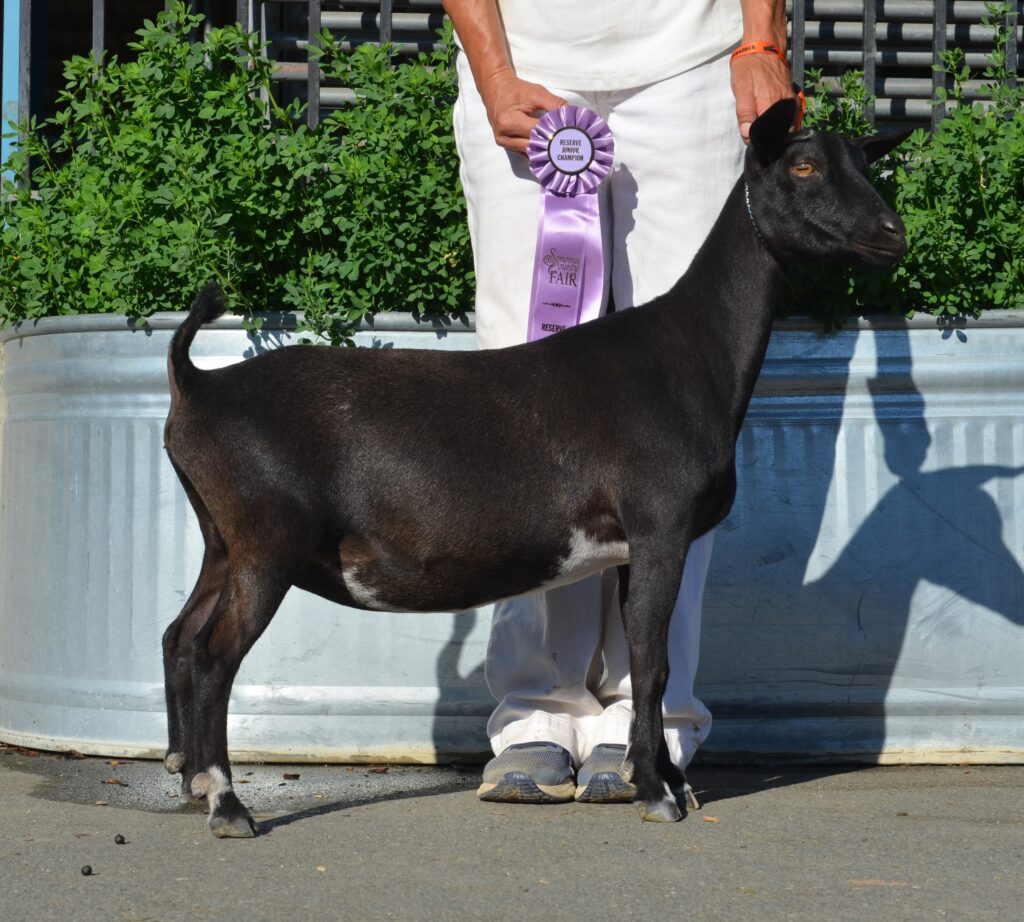 Date of birth: 4/30/22
Sire: Walsh Kids P Supernova
(Curbstone Valley AD Prophecy *B x CH Alethia DJ Starry Night VEEE 89)
Dam: Sonview Ranch Nazira VVVE 89 (02-04)
(Sonview Ranch Lando *B x GCH Sonview Ranch Dleightful Dale 2*M VEVE 89 (2-11) (pending ADGA inputting records)
Pelia started off her show career by winning a nice class in Aug 2022, as a tiny kid, under a highly respected judge.
When shown this year as a dry yearling, the judge really worked us, then placed her 2nd to Rz Acres Prima D'Onna, who then went Champion, with Promising Pelia being awarded Res Champion Jr. The competition at the next show was quite intense, but Pelia was 5th under the first judge then 2nd under the second judge out of the class of 21 dry yearlings. Thankfully, she is very outgoing and seems to enjoy the shows. I am looking forward to getting to see her freshen in 2024, as I expect she will have a really nice udder to compliment her beautiful body.
1x Res Champion Jr
---
Sonview Ranch Phoenix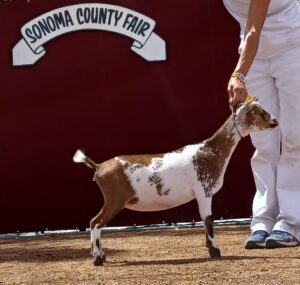 Date of birth: 3/15/22
Sire:Sonview Ranch Lando *B
(TX Twincreeks RM Watermark *B+ x GCH AGS Sonview Ranch Fancy C.C. 1*M EEEE 91 (7-00))
Dam:Sonview Ranch Firebird 2*M VEV+ 86 (3-03)
(Alethia SHH Gunsmoke N Lace x Sonview Ranch Grace 1*M V+VV 89 (3-02)
This unassuming little doe kid was a solid performer in the show ring all last year, as an intermediate kid. Her paternal sister, Paragon, usually beat her but once in awhile, Phoenix beat her sister for the win. In 2022, Phoenix placed top 3 in very competitive classes, 8 of the 11 times shown, winning her class under 2 of those judges.
Phoenix will be a dry yearling for 2023
---
Sonview Ranch KMD Reflection
photo coming soon
Date of birth: 3/17/23
Sire: Rosasharn CB Katmandoo +*B VGE 88 (07-11)
(Rosasharn SH Celtic Ballad ++*B VEE 90 (05-02) x Rosasharn TL Kit-Kat 5*EEEE 91 (07-04))
Dam: Sonview Ranch Tribute 2*M VVEV 88 (2-02)
(Alethia SHH Gunsmoke N Lace x The Sonview Ranch Carmen)
---
Sonview Ranch Rayla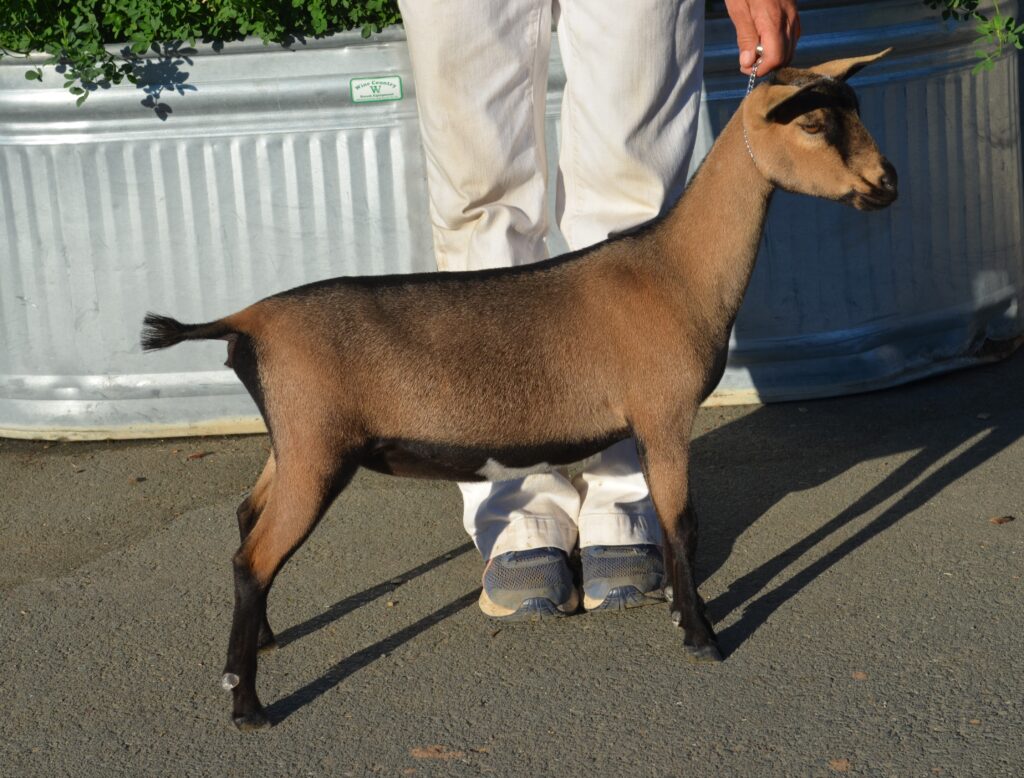 Date of birth: 3/6/23
Sire: Rosasharn HRS Clasic Caballero
(Rosasharn Hurricane Rain Storm x Rosasharn CB Pegasus)
Dam: Sonview Ranch Mayla VVEE 90 (03 – 05)
(Sonview Ranch Lando V+E 87 (02-02) x Sonview Ranch Layla)
---
Sonview Ranch KMD Relic
Photo coming soon
Date of birth: 3/26/23
Sire: Rosasharn CB Katmandoo +*B VGE 88 (07-11)
(Rosasharn SH Celtic Ballad ++*B VEE 90 (05-02) x Rosasharn TL Kit-Kat 5*EEEE 91 (07-04))
Dam: Sonview Ranch Treasure 2*M V+EA 84 (2-02)
(Alethia SHH Gunsmoke N Lace x The Sonview Ranch Carmen)
---
Sonview Ranch Rosabella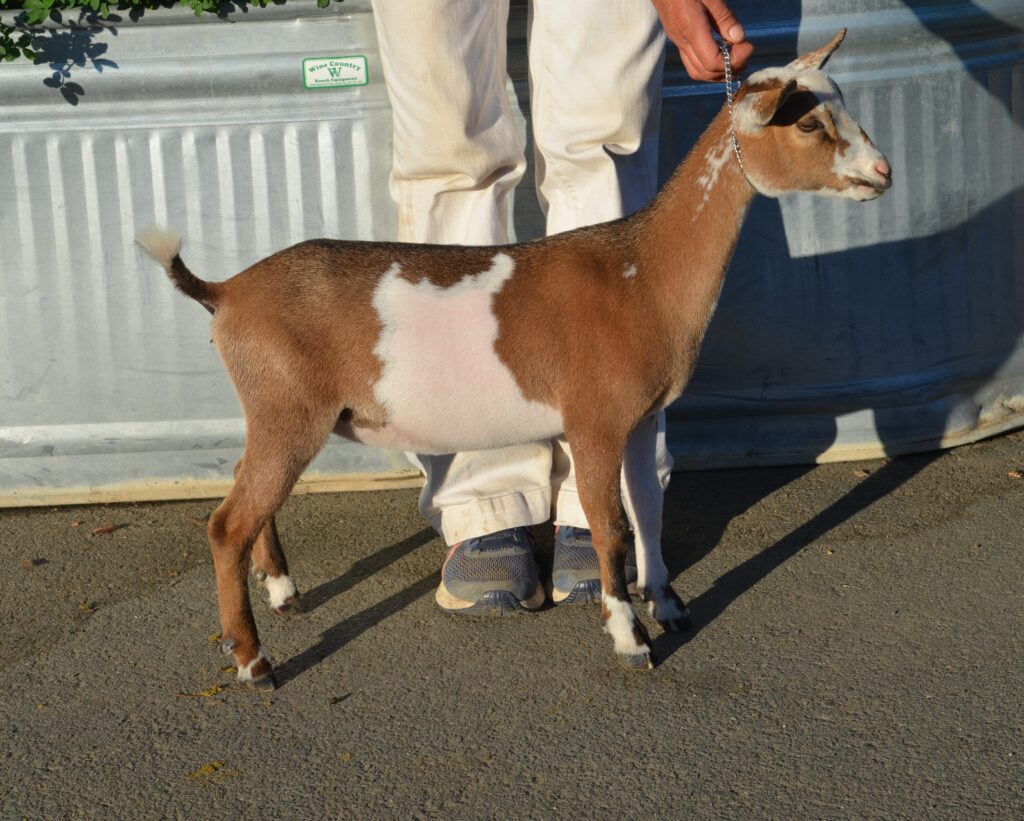 Date of birth: 5/1/23
Sire: Sonview Ranch Lando V+E 87 (02-02)
(Twincreeks RM Watermark +*B VVV 86 (1-09) x GCH Sonview Ranch Fancy C.C. 1*M EEEE 91 (7-00)
Dam: Sonview Ranch Martina 1*M VEVE 89 (03-04)
(Curbstone Valley Desert Mirage *B VVE 88 (03-02) x 3G Family farm IHC Venus)
---
Sonview Ranch KMD Rivka
Photo coming soon
Date of birth: 6/23/23
Sire: Rosasharn CB Katmandoo +*B VGE 88 (07-11)
(Rosasharn SH Celtic Ballad ++*B VEE 90 (05-02) x Rosasharn TL Kit-Kat 5*EEEE 91 (07-04))
Dam: Sonview Ranch Mitzy VEEE 90 (03 – 02)
(Sonview Ranch Flashy Lad *B x Sonview Ranch Litzy VEVV 88 (02-03))
---
---